Ceol Alainn (is alive)
File archive of Ceol Alainn weblog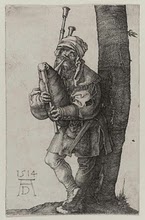 There was a blog about Irish music - "Ceol Alainn - Rare Recordings of Traditional Irish Music" it was called, and it was a unique source of great music for all lovers of Irish tradition. Many of recordings published there would have been lost for us otherwise. But one day, in August of 2012, things have changed:
"There are legal changes occurring in the world that I was naive enough to believe would never take place. I had hoped that the potential for personal publication facilitated by the internet would have revolutionised the ways in which digital information was managed from a legal perspective; that institutions of ownership would evolve to embrace the possibilities opened up by the free movement of information on a global scale. I expected to encounter at least a little resistance to this project, and I have been surprised by the absolute lack of legal interest shown in my flagrant disregard for copyright law. But, things no longer look quite so simple, and I no longer wish to take the risk involved in publishing this material, so as of today, it will no longer be available to download."
Sad story, isn't it?
I have one strong belief: information wants to be free. Not "should be" or "must be", but - has a desire and necessity of being distributed. After all, Ceol Alainn wasn't a trashcan full of porn, warez, banners and stolen Justin Bieber mp3's. It was a website about traditional music, which is very non-commercial by its nature. Moreover, it was a personal collection of rare traditional music. You do not break anyone's business with sharing rare music.
It is very important for those who learn to play Irish music to be able to get these old recordings - especially for guys like me, who happen to live far from the living tradition and have to rely on recorded music. There wouldn't be any Irish musicans here in Moscow if we couldn't get these tons of pirated mp3's of all kinds from the internet, listen them all and learn from them. But we could, and I could, so now I feel obliged to help others to get at least some of what I've got.
Here I publish the full file archive of Ceol Alainn music blog.
Click here to download the music
I do not set any bandwidth limits - you're welcome to download everything at once, or get what you want and come back again. These files are not going anywhere this time. :-) Full contents of the download folder can be found in this text file (use ctrl+f to search), for more information see the original Ceol Alainn blog, or its artist index, or ask Google.
If you don't know how to download music from here, or have any problems with that, try reading Download FAQ.
I'm grateful to the author of Ceol Alainn for the job he has done for us. I hope that his "experiment" is not wrapped up for ever, and that he will get us even more music some day. We all love Irish music!
Email me at me@breqwas.net if you have any questions, comments or suggestions.
Artyom K.